Hearty Venison Casserole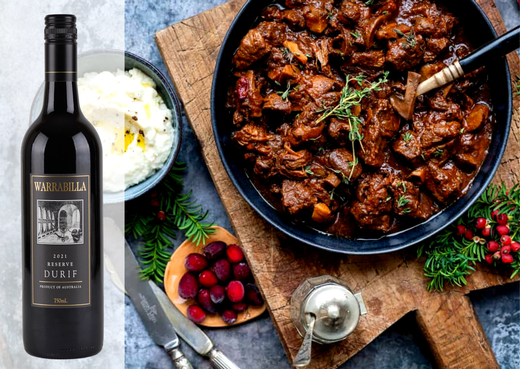 Recipe Date:
22 December 2022
Ingredients
1.00 kg venison fillet
1 cup coarsely chopped onions
3 carrots cut into 1cm slices
2 stalks sliced celery
1 large pinch salt
1 large pinch cracked pepper
1 tsp fresh or dried parsley
2 tsp fresh or dried rosemary
250 ml Durif
250 ml beef stock
150 g bacon or pancetta - diced
1 tbsp tomato paste
Directions
Put the venison on one side of a large baking dish. Put the onions, carrots, and celery on the opposite side. Sprinkle the salt, pepper, and the dried herbs evenly over the meat and vegetables.
Combine the beef stock and red wine. Pour the mixture over the meat and vegetables. Cover, and marinate in the refrigerator for 8 hours, or up to overnight.
Remove the meat and vegetables from the marinade to separate bowls. Reserve the marinade for use later in this recipe.

In a large Dutch oven or other heavy-duty pot, add the bacon and cook over medium heat, stirring occasionally until it crisps.
Transfer to a paper-towel-lined plate to drain.
Pat the venison dry with paper towels. Toss the meat chunks with the flour. Brown the meat in the bacon grease over medium-high heat in batches if necessary, until golden. Replenish the pan with vegetable oil if needed.
Return all the meat to the pot. Add the tomato paste and cook, stirring continually until the meat and paste are combined, about 1 minute.
Add the mushrooms, marinated vegetables, crisped bacon, and the reserved marinade to the pot.
Cook the mixture, covered, on low heat until the meat and vegetables are tender, and the sauce has thickened, 45 minutes to 1 hour. Serve warm.