Winemaking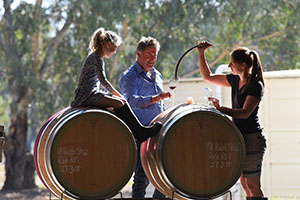 Amy pours Andrew a barrel tasting under the watchful eye of Evelyn.
Red wine making is a great love of our winemakers. Warrabilla, use a combination of very basic traditional techniques and some exceptionally modern microbiology.
Our wine begins in the vineyard with low cropped vines picked very ripe. From good soils our grapes have great depth of colour and structure. This is the heart of what we do.
Open fermenters and gentle pressing techniques used today are no different to wine making in the 1870's.
The wines are racked off lees several times, blended (always the most fun!) and then filtered, ready for our bottling line.
Our style which has become our signature, is all about flavour, richness and balance. We definitely chase the black fruit flavours and soft tannins that come with properly matured fruit. No green and herbaceous, hard, mean wines here! This may mean that there is sometimes a fair bit of alcohol in there as well….but don't get stuck on that. Balanced wines can be 11 % or 18%. So long as they're balanced.
​
Wines like this tend to eat up oak (to stay in balance) so our styles tend to have a great backbone of oak characters in there as well. As the natural preservatives in wine are acid, alcohol, oak and tannin, our wines are made for long to very long term cellaring.
​
When serving a Warrabilla wine, we recommend some ageing on our premium wines. To get the most out of an aged red, we recommend pulling the cork at least an hour or so beforehand and serving at 15-20 degrees Celsius. (10 minutes in the vegetable crisper on a hot day is just perfect). Decanting is recommended for our wines. Allowing the wine to breath and to catch sediment."
​
PAROLAS – our premium wine, only made in the best vintages with the best fruit. Aged in new oak puncheons for 10 -12 months. Super premium wine at an approachable price.
​
RESERVE – our standard wine label, available in nearly all vintages, consistent high quality at a very reasonable price