The Vineyards
Our Chief Winemaker Andrew Sutherland Smith grew up in Rutherglen. He was raised in the All Saints Winery which was established by his great, great grandfather in 1864. By the time he could legally enjoy a glass of local wine, Andrew knew the land and the soil in which the local grapes were grown like the back of his hand. When he returned to Rutherglen after university and working in wineries around South East Australia, he opted to expand his knowledge in other winemakers' vineyards. By the time he was ready to plant his own vineyard, he knew exactly where to grow his own vines. It was on a sandy rise, 18 kilometres west of Rutherglen near Jones' Swamp. There stood a copse of ancient Murray pines. These beautiful old trees share one thing in common with grapevines – they don't like getting wet feet. So this was the perfect place to plant his first vines and start making the special wines that Andrew envisaged.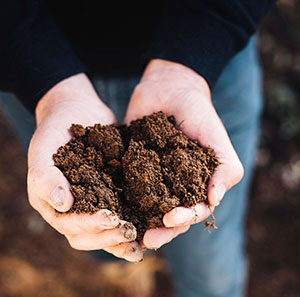 Rutherglen Vineyard
In 1994, Andrew and his wife Carol bought the block where the winery now stands. They set about planting their first 15 acres (6ha), starting with Durif. These were hand grafted by Carol on the kitchen table. Planted in a north-south location, they were soon joined by Shiraz and Cabernet Sauvignon vines. In 2002, the couple planted our Muscat vines. With free draining and slightly sandy soil, the Rutherglen Vineyard produces wines that are incredibly aromatic. The Muscat we make from the Rutherglen Vineyard, for example, is beautifully perfumed with notes of rose petal and Turkish delight.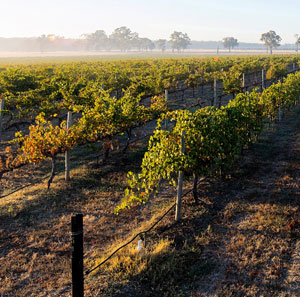 Parola's Vineyard
A few kilometres to the west is Parola's Vineyard, a much larger vineyard on a rise overlooking the wetlands of the Ovens River. It is a stunning place, bordered on one side by a stand of yellow box eucalypts and ancient river red gums that meander alongside the river. "Bacchus loves a view over water," Andrew says. To protect and enrich the top layer of soil, every year we plant a cover crop. Under the top soil are several metres of deep red clay – old, rich soil with loads of organic matter.
We planted the vines in Parola's Vineyard very close to the traditional Rutherglen row distance of 13 feet (4m). This is an old technique to improve the airflow, which helps us control fungal diseases in a natural manner. Another benefit of this beautiful location is the slight change in altitude. Being planted on a rise, the vines are not as susceptible to frost damage because, in the colder months, the chilly, dense air drops into the river valley below, leaving the vineyard frost free.
The lion's share of Parola's Vineyard of 52 acres (21 ha) has been planted with Durif and Shiraz. This is where we also grow some exceptional Grenache, the vines producing grapes like little pink jewels. From these we make a wine that is so much fun. It has been described by one wine lover as 'like a delicious Pinot Noir with a sense of humour." In Parola's Vineyard we also grow three acres (1.2ha) of Riesling, which becomes a lovely clean-finishing wine with a crisp green apple finish and aromas reminiscent of honeysuckle and orange blossom. We also have another three acres of Malbec vines that can produce notes of mulberry with lovely herbaceous undertones. Parola's Vineyard really is as productive as it is beautiful.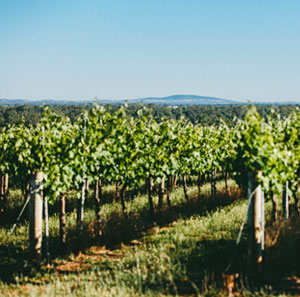 Gooramadda Vineyard
We have a good friend down the road at Gooramadda, 20km east of Rutherglen. His name is Ross Gehrig. Like us, he is a sixth generation winemaker. His vineyard is planted out on the gently sloping hills near Mount Ochentyre. There he grows Shiraz and Durif on lean, hungry soils made up predominantly of red loam over shale rock. This site makes the vines work hard, producing fruit that is intensely concentrated in flavour and colour. Our family has worked alongside Ross and his family for generations and, in 2015, we started buying fruit from Ross, not only for its quality, but to give us blending options with great fruit from within the Rutherglen region.