Vineyards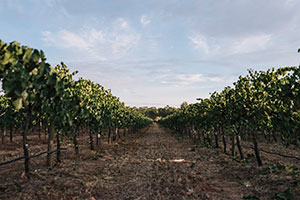 The Parola's Vineyard.
Warrabilla Wines can be found 18kms West of Rutherglen on the Murray Valley Highway approximately half way between Rutherglen and Yarrawonga. A short 15 minute drive from Rutherglen will bring you to our unsuspecting shed, which houses our cellar door and fully functioning winery, the entire production of Warrabilla wines are done on site. A visit to our cellar door will introduce you to our signature style of formidable reds as well as some elegant crisp whites and high quality fortifieds.
Rutherglen is one of Australia's oldest wine regions, both our climate and soil attribute to the ability of Rutherglen to produce, world renowned fortifieds and a reputation of producing high quality table wines, especially reds. Vines were brought to the area in the 1850s. Several families that established the wine industry in Rutherglen still have descendants continuing their family traditions today.
Warrabilla has two vineyards.
The home vineyard of 15 Acres, is on lean and hungry sand, perfect for ethereal perfumed wines.
The Parola's Vineyard of 36 acres is 5 km west of the winery overlooking the Oven's River on the border of the Rutherglen region. It's just far enough away to spread the risk of bad weather. Situated on a magnificent ridge of deep red loam.
Different areas have their own regional flavors, which we try to enhance. Basically, it comes down to dirt. Sand and light soils give a good fresh nose and clay gives more weight and tannin.