The Warrabilla Story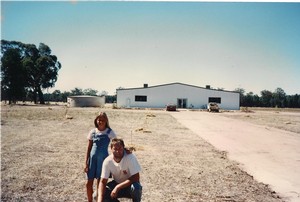 Andrew with daughter Amy stand in front of a bare paddock with the plain white shed that would become Warrabilla. Circa 1996
Warrabilla Wines is highly regarded amongst the Australian wine fraternity as a producer of consistently high quality wines of personality and substance. A small production, Warrabilla has gained somewhat of a cult status for their ability to produce wines that are bold by nature yet retain an innate drinkability.
Andrew Sutherland Smith made the first Warrabilla vintage in 1991 with a determined focus to produce red wines of strucure which exhibit strong regionality. Throughout the years, the reputation for producing textural bold reds has grown, while the commitment to quality and the unapologetic approach to flavor remains.
In the early days Andrew spent much time sourcing the best parcels of fruit across north east Victoria. With the success of each vinatge, the business grew and Andrew began acquiring lands with the sole focus to plant his own vineyards. These plantings have become distinguished sites, each with a distinct signature producing uniquely regional styles.
Having worked extensively throughout the Australian wine industry, Andrew honed his craft at such notable establishments as Yellowglen, Mildara, Stanley and McWilliams. In 2012, he was joined by daughter, Amy Sutherland Smith upon her return from Charles Sturt University. The pair complement one another with Andrew playing the role of mentor and Amy bringing drive and enthusiasm, spurring her father along to yet greater heights. Andrew's willingness to harness new technologies and reinvest in his business is evident in the strength of these impressive wines.