The Winemakers
Andrew Sutherland Smith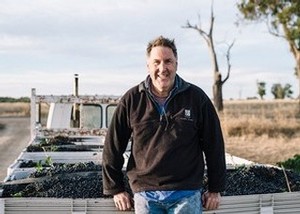 Andrew has been playing with wine since the age of four. He was born and bred at All Saints. "Our family founded All Saints in 1864 and made wine there until the 1990s," he says. As a boy, Andrew walked the cellars and great concrete fermenters and remembers accompanying his father in the middle of the night to pump over the wines and check their temperatures as they fermented. "My earliest memory is of the coopers," remembers Andrew. "These great burly blokes working with wood, fire, and steel to make the barrels."
Working in wine was never taken for granted, and Andrew's father wanted him to have a fall-back career. So he studied science at the University of Melbourne. There he remembers spending a lot of time at another Carlton institution, Jimmy Watson's wine bar.
Later, at what was to become Charles Sturt University in Wagga Wagga, Andrew attended the winemaking course, where he described himself as a 'round peg in a round hole'. He was happy as he knew the wine industry was where he needed to be.
His first job took him to Central Victoria to make sparkling wine at Yellowglen. Next he went to the BRL Hardy Stanley Leasingham plant at Buronga on the Murray near Mildura. There he learned to work with very ripe fruit, full-flavoured grapes, bursting with juice, high baume and lovely soft tannins. "Being exposed to those wines taught me to make the wine that I do now," says Andrew.
Andrew then moved to McWilliams at Robinvale, where he mastered their cream sherry made from Muscat Gordo Blanco grapes. For a while he carried the moniker, Mr. Cream Sherry, and laughs about his popularity with some older ladies in the district.
Andrew then returned to the family winery at All Saints as winemaker for three years, working in the sprawling historic buildings, he made big oak-driven wines, and proudly accepted the awards that came with them.
What followed was a stint with Rutherglen legend Bill Chambers, the maker of some of the best-fortified wines in the world, "He is my greatest mentor," says Andrew fondly. "Under him, I learned more and more about the different soils, sites and techniques that make Rutherglen unique," he says. "He called me Gladstone Gander – after a cartoon character for whom everything seemed to fall at his feet."
Andrew's next step was the role as head winemaker at the since-closed Fairfield winery. There he produced the big, powerful red wines for which they were once known. It was a turning point for him. "After being made head winemaker," he says, "there was only one place to go – mine."
And that is where the Warrabilla story begins.
Amy Sutherland Smith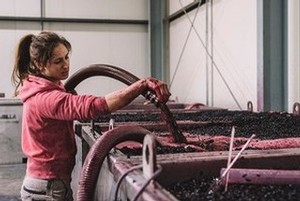 Warrabilla's General Manager is Amy Sutherland Smith, Andrew and Carol's daughter. Amy grew up at Warrabilla learning viticulture, winemaking, and the general business of wine as she literally followed in her parents' footsteps. She remembers her mother pasting labels onto wine bottles in the days before they could afford "fancy" self-adhesive labels. Later Amy earned pocket money helping with the packaging. Her school holidays were spent in the vineyard lifting wires to manage the leaf canopy and removing the unwanted shoots from the trunks of the vines. At 16, she started working alongside Andrew in the cellar. "Dad and I share a love of the barrel room," says Amy. "Transferring wine out of tanks into barrels, blending the wine, it's a passion we both share."
After leaving school, Amy went to study winemaking at Charles Sturt University at Wagga Wagga. Afterwards, she left winemaking behind as she dedicated herself to the care of others as a nurse. But the call of the vineyard was too strong. Older, and with a young family, she returned to Warrabilla in 2012 to join Andrew and Carol. Since then, Amy has taken over the reins of the business and the export side of Warrabilla, allowing Andrew to concentrate his efforts in the winery. Today, Amy is not only General Manager, but works side by side with her father making and blending Warrabilla's wines. She does, however, focus her attention on the varieties that drive her passion, namely Muscat and Grenache.
Amy is recognised in the Australian wine industry for her not so common skill set of outstanding knowledge of fortified wines. This expertise has gained her a position as a judge at the Victorian Wine Show. She also worked as both wine judge and associate wine judge at the Riverina Wine Show, Australian Inland Wine Show as well as the Rutherglen and Australian Fortified Wine Shows. As a sixth-generation winemaker, Amy is continuing a 150-year-old tradition as a family of noted winemakers.