Grilled King Prawns With Saffron Risotto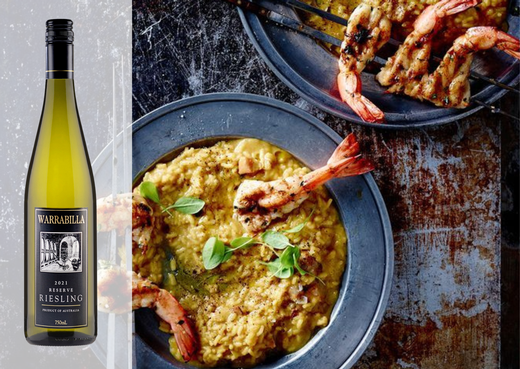 Recipe Date:
21 December 2022
Ingredients
75 g salted butter
5 g thyme leaves (leaves only)
23.62 kg King Prawns (deveined, tails intact)
2 garlic clove
1 l fish or vegetable stock
1 tbsp extra virgin olive oil
1 onion
100 g pancetta, cubed to 1cm
300 g risotto rice
125 ml Riesling
1 pinch of saffron threads
50 g salted butter to finish risotto
50 g grated parmesan
Directions
For the risotto, place the stock and saffron in a saucepan over high heat. Bring to the boil, then reduce the heat to low and keep warm.

Heat the oil in a heavy-based saucepan over medium heat. Add the onion, one clove of garlic and pancetta, and cook, stirring, for 4-5 minutes until softened.

Add the rice and cook, stirring, for a further 2-3 minutes until coated and toasted. Increase the heat to high, then add the wine and cook, scraping the bottom of the pan with a spoon, for 3 minutes or until absorbed.

Add stock, one ladle at a time, stirring between each addition and making sure the stock is absorbed before adding the next ladleful, for 15-20 minutes until all the stock is used and rice is al dente.

Add butter and parmesan and stir through the risotto. To make the prawns, heat a chargrill pan or barbecue to high heat. Combine the butter, thyme and the second clove of garlic in a bowl.
Season. Thread a few prawns onto two skewers each (this will hold them in place). Brush with the garlic herb butter.

Grill prawns, turning halfway, for 4-5 minutes until golden and cooked through. Remove from heat.

Divide risotto among serving bowls and top with micro sorrel. Serve with grilled prawn skewers.