Five Spiced Duck With Pomegranate Salsa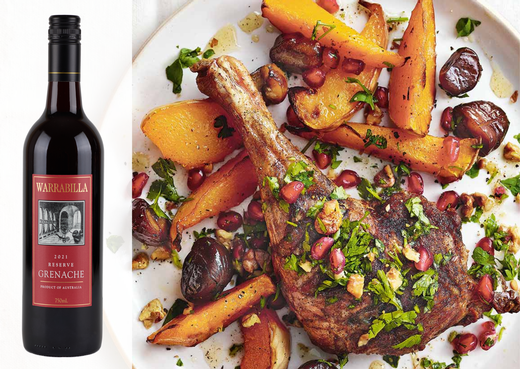 Recipe Date:
21 December 2022
Ingredients
6 duck legs (uncooked)
2 tsp Chinese five spice
2 tsp Murray River salt flakes
1.00 kg butternut pumpkin
150 g pistachio nuts (hulled)
2 cinnamon sticks
50 g walnuts
30 g flat leaf parsley
100 g pomegranate seeds
Directions
Preheat the oven to 220°C, fan 200°C. Trim the excess fat from under the duck legs; discard. Make 2-3 slashes through the skin on the top of each leg and rub with five-spice and salt flakes.
Cut pumpkin into wedges and arrange in a roasting tin and place the duck legs on top. Roast for 15 mins, then turn the pumpkin and baste the legs. Add the pistachio and cinnamon sticks to the tin and return to the oven. Reduce the heat to 200°C, fan 180°C and roast for 45 mins.
Put the walnuts on a small baking tray on a low shelf in the oven. Toast for 12 mins until lightly golden. Set aside.

Turn the pumpkin again and baste the duck legs. Return to the oven; reduce the temperature to 180°C, fan 160°C and roast for 40-45 mins until the squash and the flesh on the legs is cooked through and tender, and the duck skin is crisp.

Chop the walnuts and mix in a bowl with the parsley and pomegranate seeds; season. Discard the cinnamon sticks and serve the pumpkin, pistachio and duck legs with the salsa scattered over.