Coq Au Vin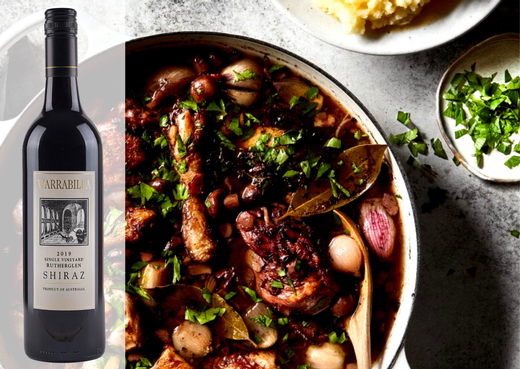 Recipe Date:
21 December 2022
Ingredients
75 g plain flour
8 skinless chicken cutlets
2 tbsp extra virgin live oil
4 streaky bacon rashers (chopped)
6 small brown onions (halved)
200 g swiss brown mushrooms (halved)
4 crushed garlic cloves
375 ml full bodied shiraz
200 ml chicken stock
3 sprigs thyme
2 fresh bay leaves
2 tbsp tomato paste
2 tbsp chopped parsley
Directions
Place flour in a snap-lock bag. Season with pepper. Add chicken. Seal. Shake to coat.

Heat oil in a large heavy-based saucepan over medium-high heat. Cook chicken, in batches, for 5 minutes or until browned on both sides. Transfer to a plate.
Add bacon, onion and mushroom to pan. Cook, stirring, for 5 minutes or until onion starts to soften. Add garlic. Cook for 1 minute or until fragrant. Add wine, stock, thyme, bay leaves and tomato paste. Stir to combine.

Return chicken to pan. Bring to the boil. Reduce heat to medium-low. Simmer for 35 minutes or until chicken is cooked through and sauce thickens. Remove and discard thyme sprigs and bay leaves. Stir in parsley. Sprinkle with extra thyme and parsley. Serve with mashed potato.