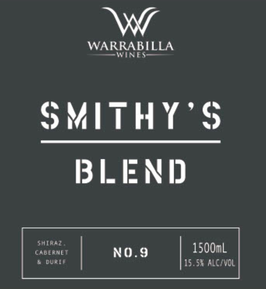 Smithy's Blend #9 Magnum
We have a lot of fun blending the Smithy's and we make no secret of the process. Individual barrels that do not fit the profile of our Reserve tier become blending options fo rour Smithy's Blend. This can be for any number of reasons including excess volume, or perhaps showing less structure, palate-weight or varietal expression that we might expect in our Reserve wines. But this is the great thing about blending. The missing piece of one puzzle, can often be found in another wine with the end result far exceeding the sum of the individual components - and that is what our Smithy's Blend is all about.
Please note for freight purposes one magnum is equivalent to six bottles of 750ml wine. IE an order of one magnum equals one freigh parcel, an order of two magnums equals one freight parcel, an order of one magnum and up to six 750ml bottles also equals one freight parcel. Anything in addition will be a secondary freight parcel.