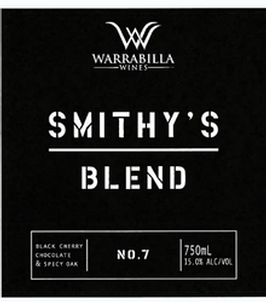 Smithy's Blend #7 bottle

We have a lot of fun blending the Smithy's and we make no secret of the process. Wines that we deem not suitable for the Reserve, S.V. or Parola's labels become "Chateau Homeless". This can be for any number of reasons including reduced cellaring potential, insufficient varietal expression, a lack of the palate-weight required to wear Warrabilla branding or some missing element or piece of the puzzle. But this is the great thing about blending. The missing piece of one puzzle, can often be found in another wine with the end result far exceeding the sum of the individual components. And that is the wine we've all come to love.

RELEASED - OCTOBER 2021
Freshly baked blackberry pie aromas with a healthy lick of oaken lift. The palate is a generous wave of ripe black fruits with abundant structural medium grained tannins providing mouthfeel and texture. Lingering and moreish, this wine is dangerously easy to drink.
Composed of roughly 1/3rd each Shiraz, Cabernet Sauvignon and Durif, Smithy's Blend # 7 is a non-vintage wine but we ask you treat it like a 2020 vintage if looking to cellar for a time. There is no 2020 material in the blend (we lost our entire 2020 vintage to smoke taint), but rather a mix of 2019 and 2021 vintage wines blended to perfection by our winemaker and master blended, Andrew "Smithy" Smith.