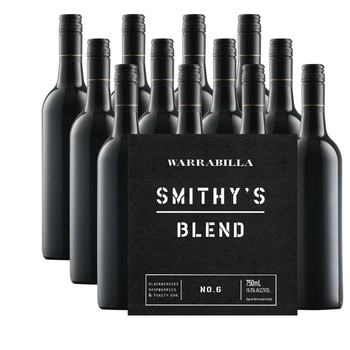 Smithy's Blend #6 dozen

We have a lot of fun blending the Smithy's and we make no secret of the process. Wines that we deem not suitable for the Reserve, S.V. or Parola's labels become "Chateau Homeless". This can be for any number of reasons including reduced cellaring potential, insufficient varietal expression, a lack of the palate-weight required to wear Warrabilla branding or some missing element or piece of the puzzle. But this is the great thing about blending. The missing piece of one puzzle, can often be found in another wine with the end result far exceeding the sum of the individual components. And that is the wine we've all come to love.

Deep ruby red in colour with a purple hue at the rim. This blend is comprosed of roughly 30% Durif, 30% Shiraz and 30% Cabernet with the balance being Malbec (another member of the greater Cabernets family) and Grenache. Shiraz imparts ripe raspberries and a hint of chocolate to the palate. Cabernet and Durif bring lashings of blackberry and mulberry fruits, subtle spice and the soft, velvety tannins responsible for the weight and mouthfeel of the wine. Generous oak brings roasted nougat, roast coffee bean and shortbread attributes, working with the fruit to create an almost "Monte Carlo" biscuit attribute. A seriously drinkable drop, enjoy this wine in good company over the next 3 years.