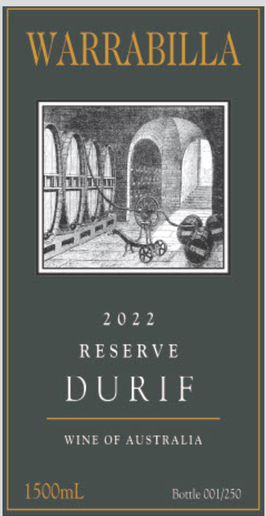 2022 Reserve Durif MAGNUM
The foundation stone of the Warrabilla range - Reserve Durif.
Durif doesn't handle the wet weather as well as many other varieties, so in 2022 we have been even more discriminating with what we chose to harvest. This resulted in a smaller volume of top notch Durif. Quality over quantity always.
Picked in two parcels, and open fermented with regular hand plunging to unlock those magical Durif tannins. 12 months in new and one year old puncheons, predominantly American with a smattering of French.
Fragrant black cherry and boysenberry fruit. Clove, allspice, musk and licorice round out a complex nose. Rich and poised through the middle, with a long flavoursome finish.
Beautiful on release and will cellar long term.

Please note for freight purposes one magnum is equivalent to six bottles of 750ml wine. IE an order of one magnum equals one freigh parcel, an order of two magnums equals one freight parcel, an order of one magnum and up to six 750ml bottles also equals one freight parcel. Anything in addition will be a secondary freight parcel.